2nd grade learned all about Synergy and Sharpening the Saw today. It's important to work together as a team to accomplish a goal and to take care of our mind, body, heart, and soul. We teamed up to see which table could build the tallest tower!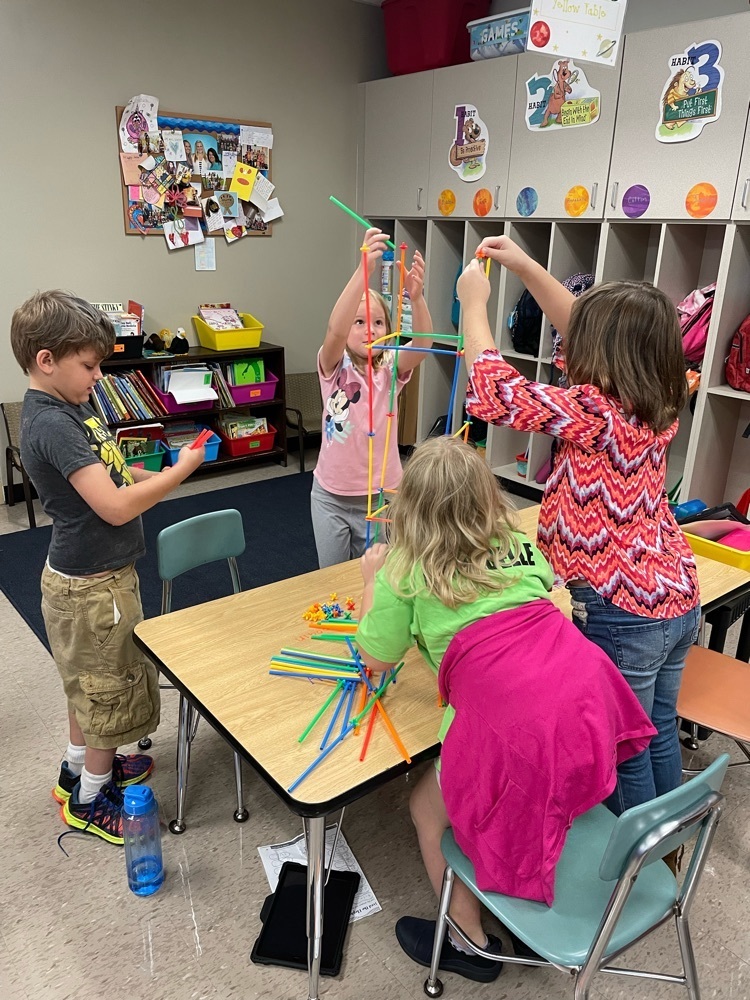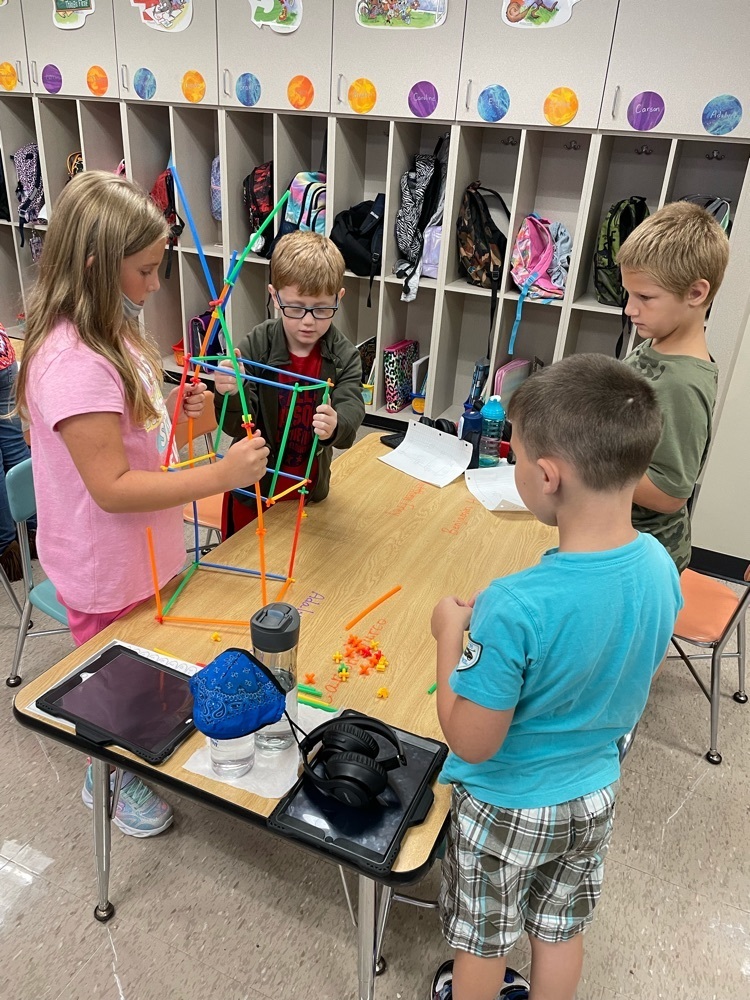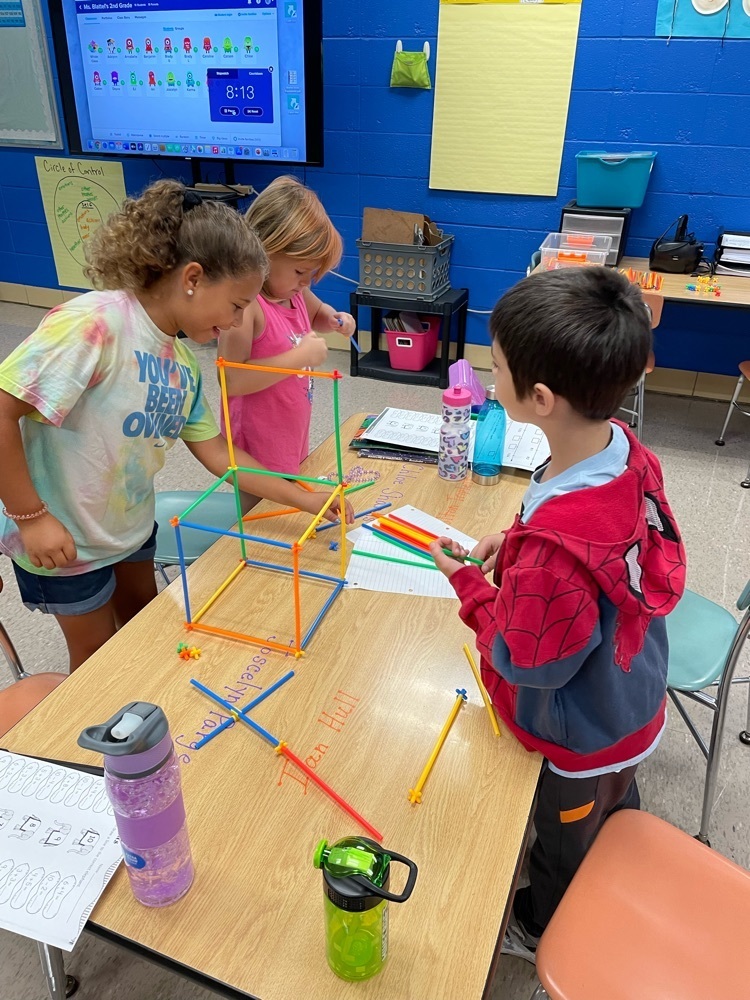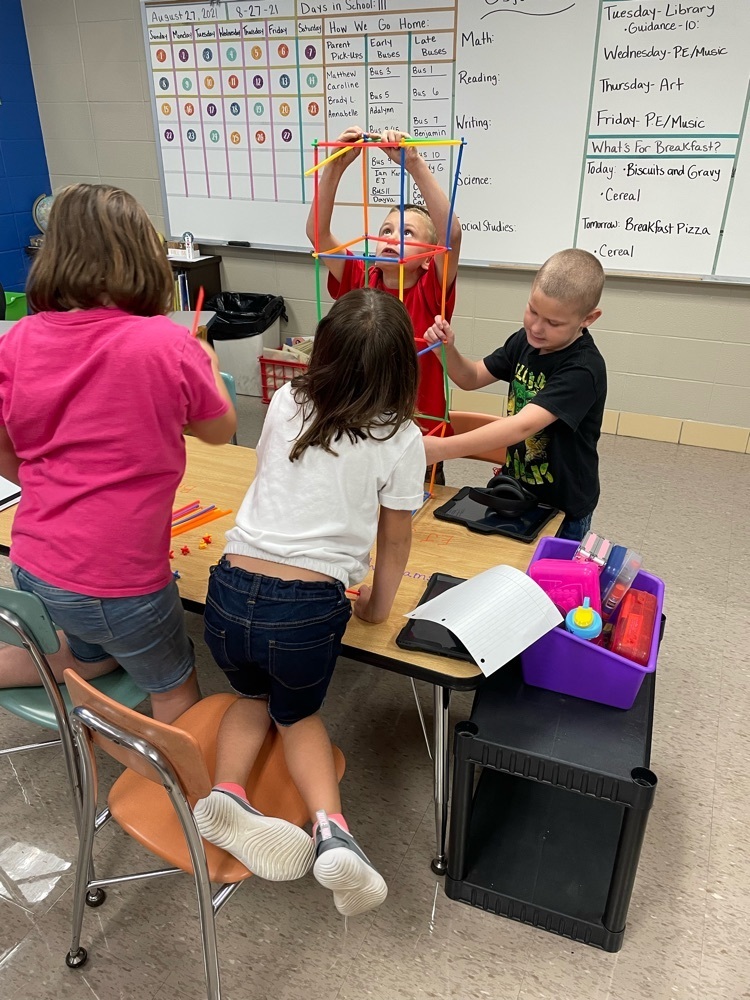 Our kindergarteners were on the hunt for the gingerbread man today as they toured and learned about the school building. The started by reading the book, The Gingerbread Man, and then went to hunt for him around the school. You can see he left some footprints as he traveled. The kindergarten students stopped by the library, cafeteria, nurses office, counselors office, principals office, gym and secretaries office looking for that gingerbread man. At each stop, the staff member told about their job and what they do. "Run, run, as fast as you can. You can't catch me, I'm the gingerbread man."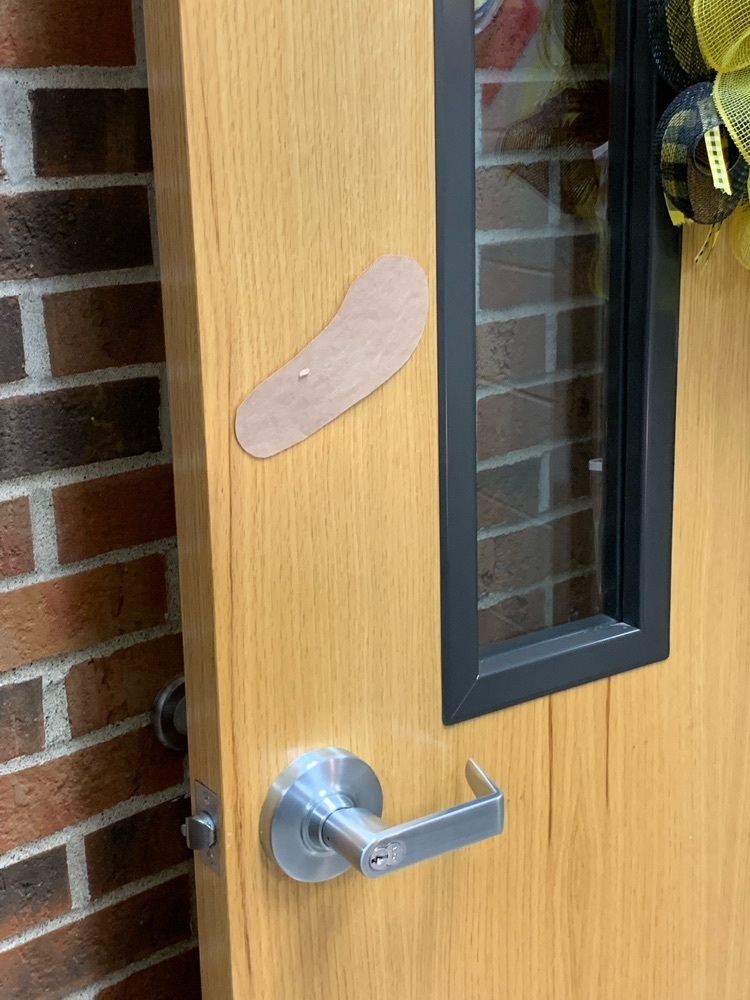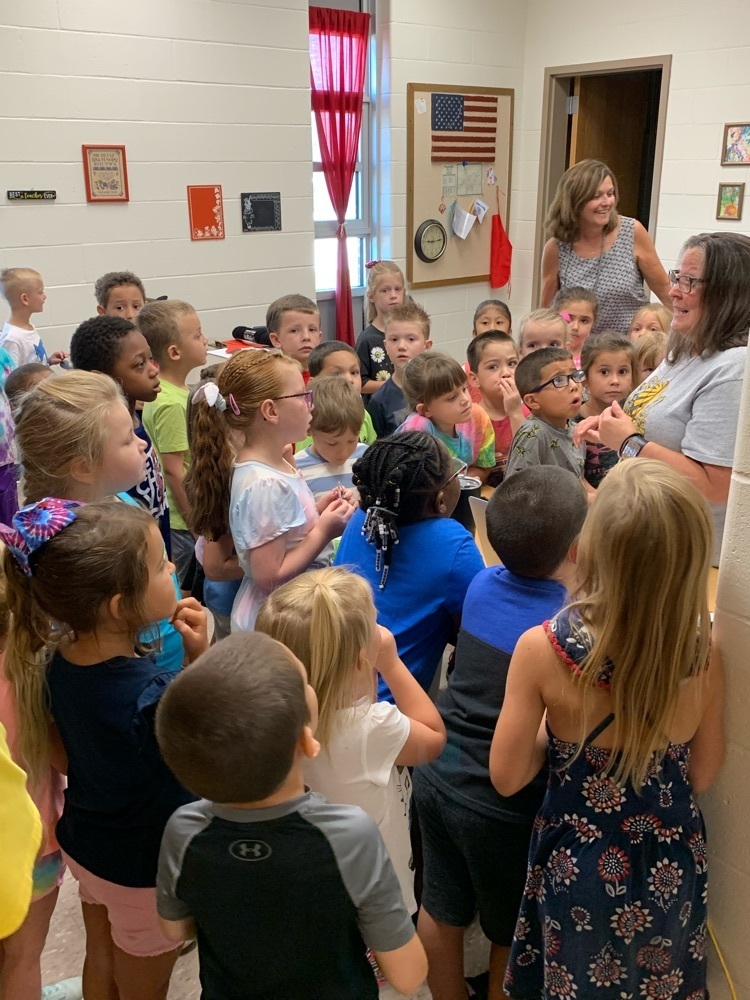 Several high school football players welcomed students and staff this morning as they arrived at school. It was great to see all the smiles these athletes brought to the kids faces. Thank you for starting our day off on a positive note!!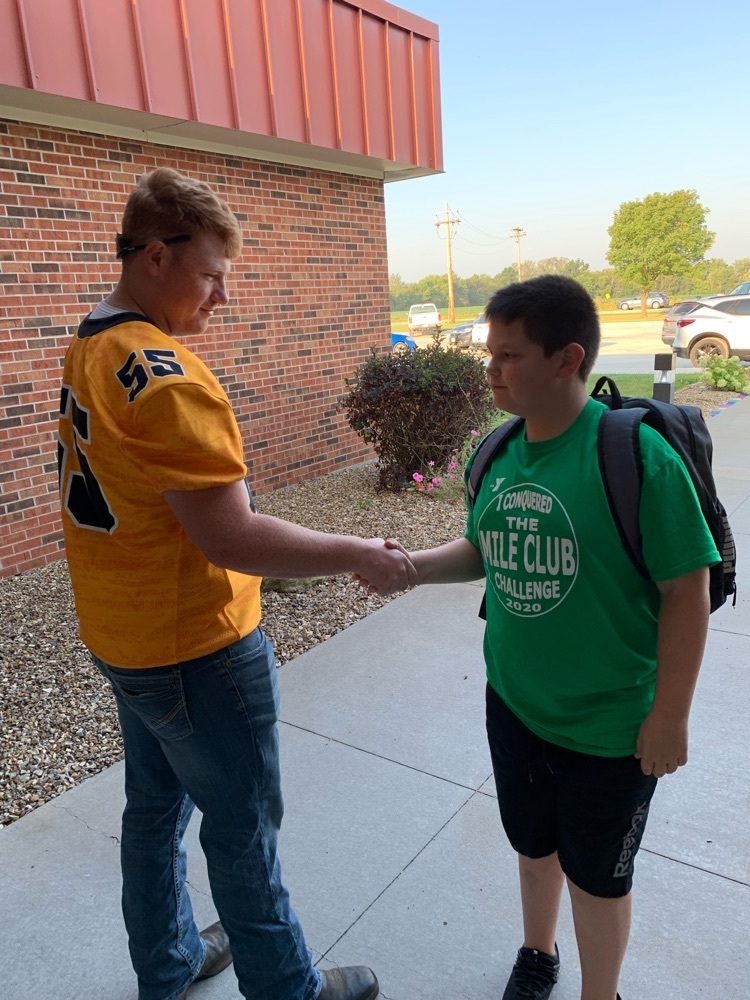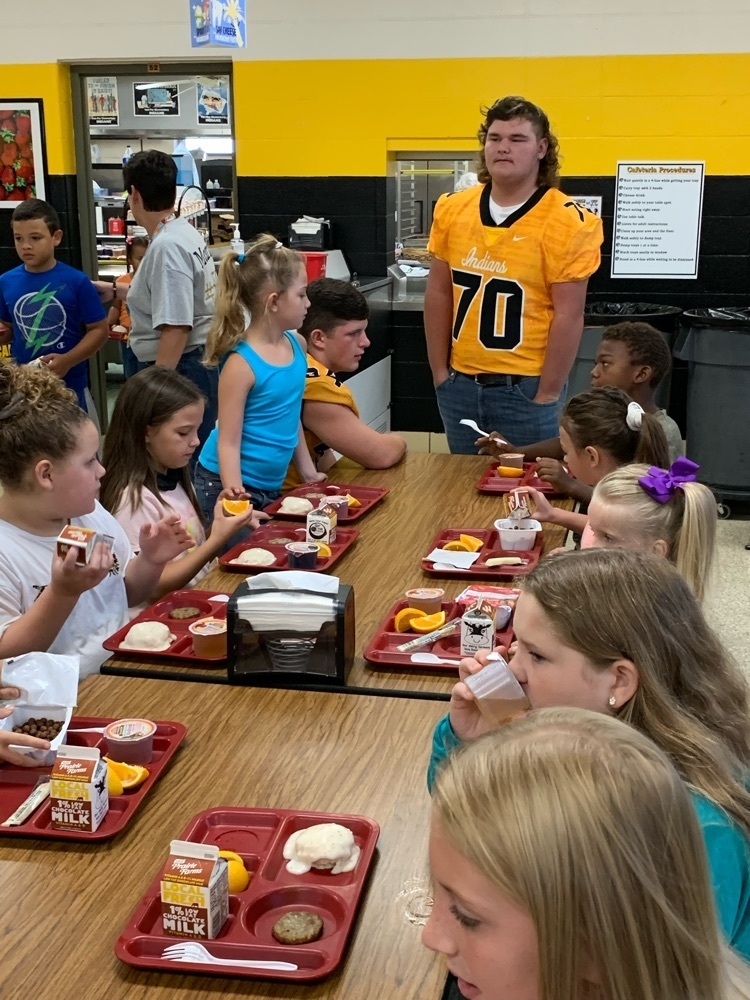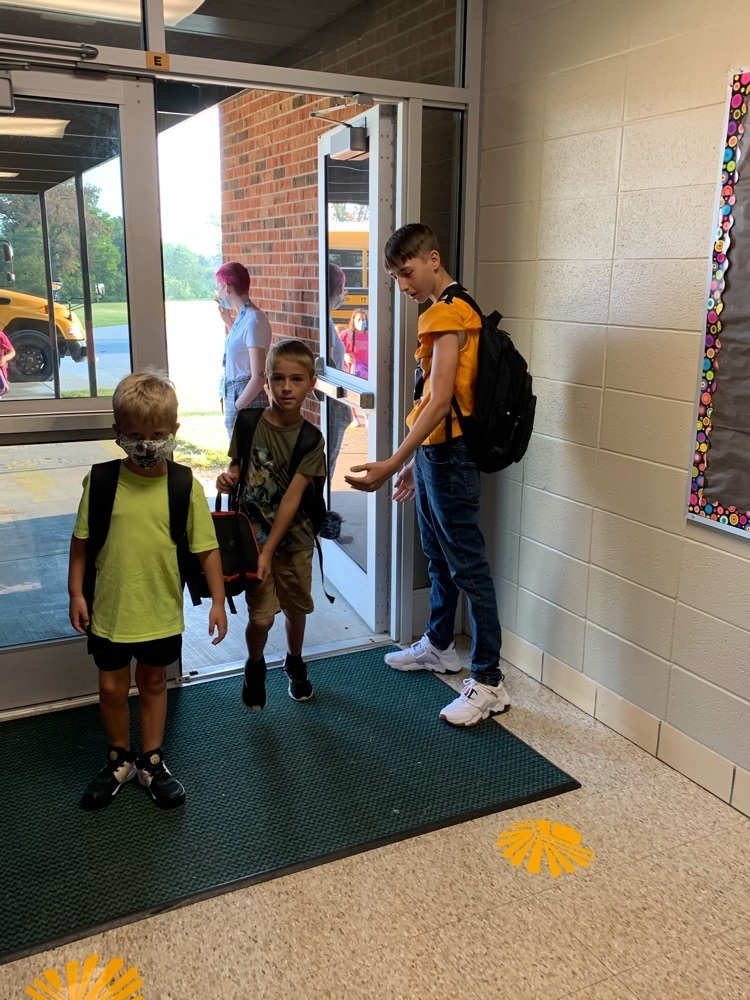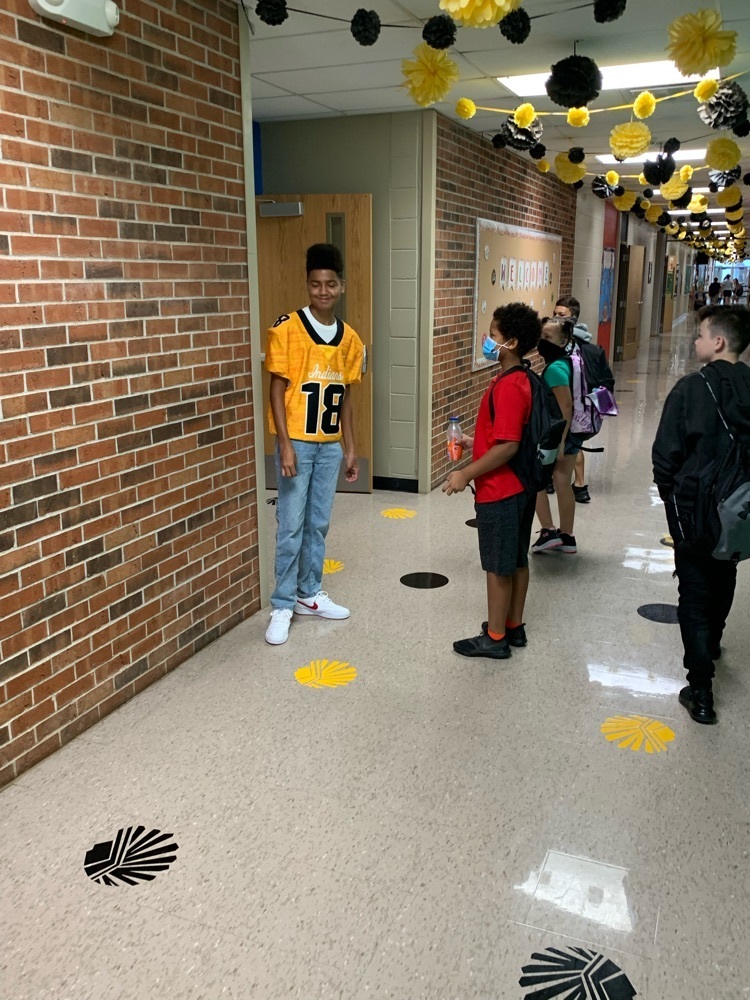 Van-Far Elementary Picture Day is: Wednesday, September 8, 2021 Wagner Portrait Group will be photographing students for portrait packages & school records. NEW! ONLY ONLINE ORDERS WILL BE ACCEPTED. (Please do not bring checks, cash, or order forms to school as they will no longer be accepted.) CLICK HERE TO ORDER
https://bit.ly/3yKusn1
www.WagnerPortraitGroup.com
Online Pre-Order Password: 8A5Q6R8 Can't order online or have other questions? We are happy to help! 314-567-5900 or 1-800-444-7986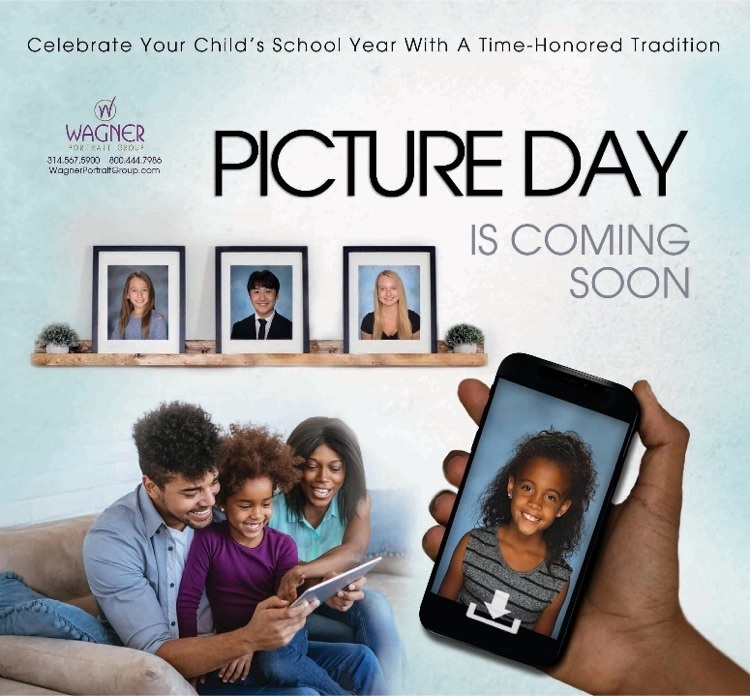 Today is the first day of school! It's going to be a great day! See y'all soon!

The 1st day of school at Van-Far is Tuesday, August 24th. Vo-Tech classes at Hart Career Center do not start until Wednesday, August 25th. The bus leaves from the HS at 7:25. If you miss the bus, you will be unable to drive yourself to Mexico. Please give yourself plenty of time to make the bus.

Thank you Christy Shelton for donating backpacks to our school! We appreciate the kind gesture!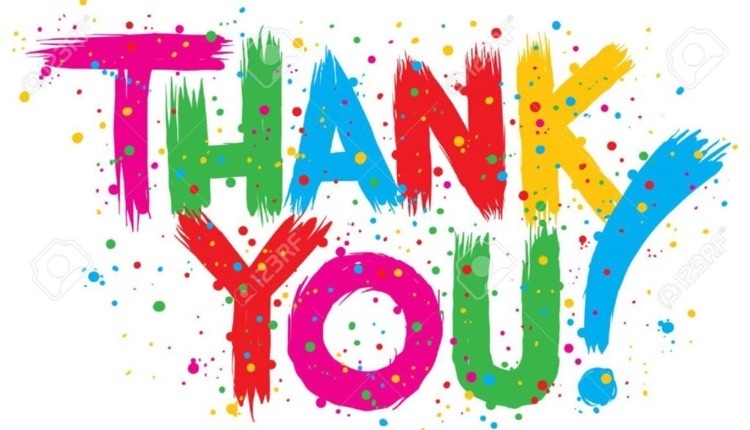 Help us spread some pride and welcome our kindergarten students to Van-Far Elementary! Kindergarten parents, Take a picture of your child with their sign they received tonight at open house and post it to Facebook. We are looking forward to watching them learn and grow.

Reminder that Friday, August 20th is Open House at the Jr/Sr High from 11:00 a.m. -7:00 p.m. 7th Grade Orientation starts at 6:00 p.m. in the HS gym. Tomorrow you may put supplies in your lockers, pick up your Ipads, and get your school pictures taken. Seniors will be getting their tux/drape pictures taken as well. We will distribute EOC/MAP scores with the Ipads. Please make sure you watch the Ipad video and sign off that you have done so. Please bring exact change of $7 if you have not already paid your technology fee online. We are looking forward to seeing everyone!

Thank you Community State Bank for donating these Van-Far School Calendar magnets! We appreciate this kind gesture and your support! The magnets will be available at the office during open house.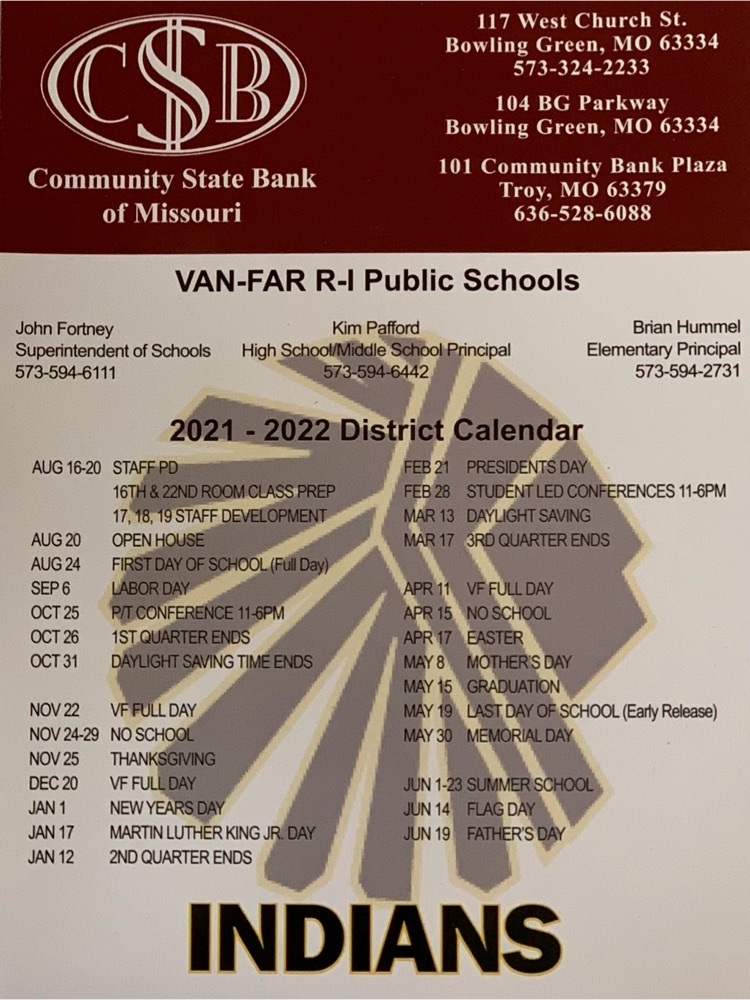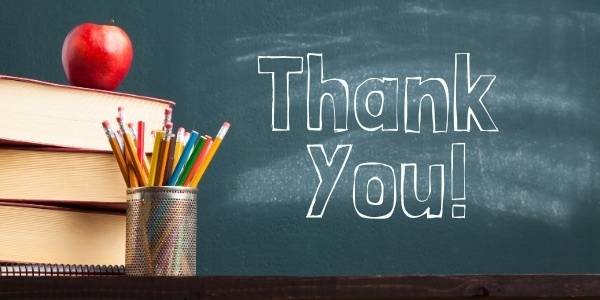 Thank you Donna Johnson and Terri Wickles for your donation of school supplies! They will be put to good use by our students. We appreciate your caring hearts!

Reminder that next Friday, August 20th at the High School, we will host our Open House from 11:00 a.m.- 7:00 p.m. We will distribute Ipads and students will have their school pictures taken in the gym. We will also be doing the Senior Tux/Drape photos during that time. Interstate should be sending picture information to you directly through email. We have paper copies of order forms at the office if you need one. To order online go to:
www.inter-state.com/order
, and enter code: 60011Z Reminder that the $7 technology fee will need to be paid prior to receiving the Ipad. You may pay for it online through your SIS portal. Please make sure to complete your online school registration by this Friday, August 13th. Feel free to call the office if you have any questions.

There will be a parent-player meeting Wednesday, August 11th at 7:00 p.m. in the high school cafeteria. This meeting is for all Fall athletes participating in HS and JH sports this upcoming season.

Save the date for Open House!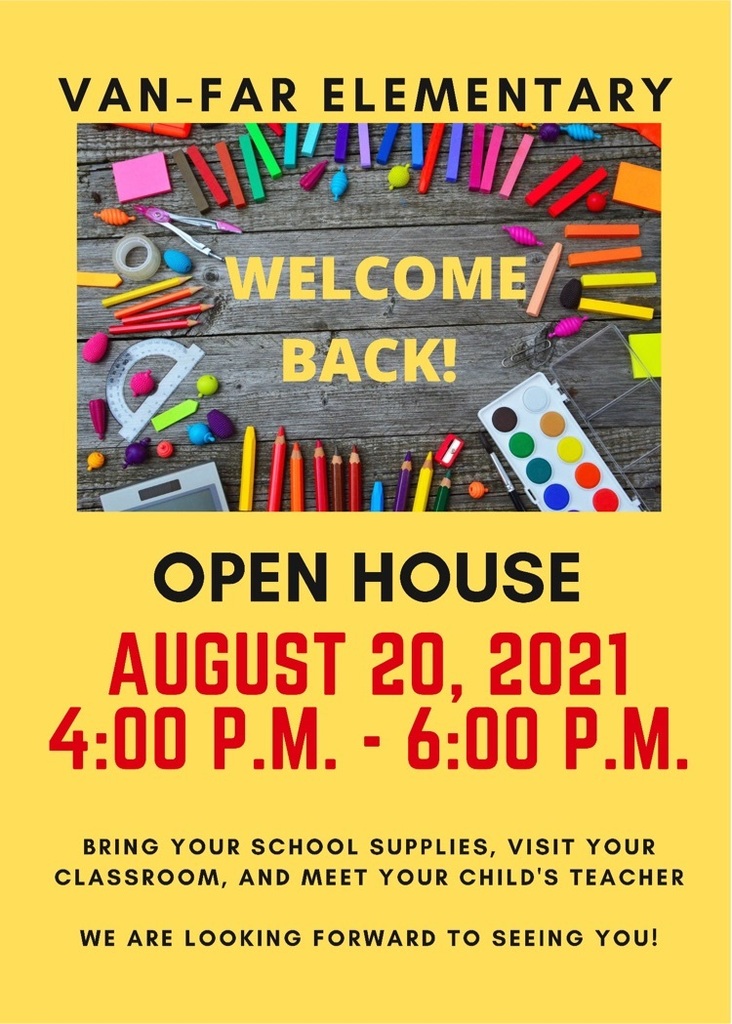 Join in celebrating Missouri's Statehood 200th birthday with a cake and ice cream social on August 10 before our pool party. This event will begin at 6:00 and the pool party starting at 7:00. Looking forward to seeing you!

Mark your calendar for our back to school pool party for Pre-K-8th grade.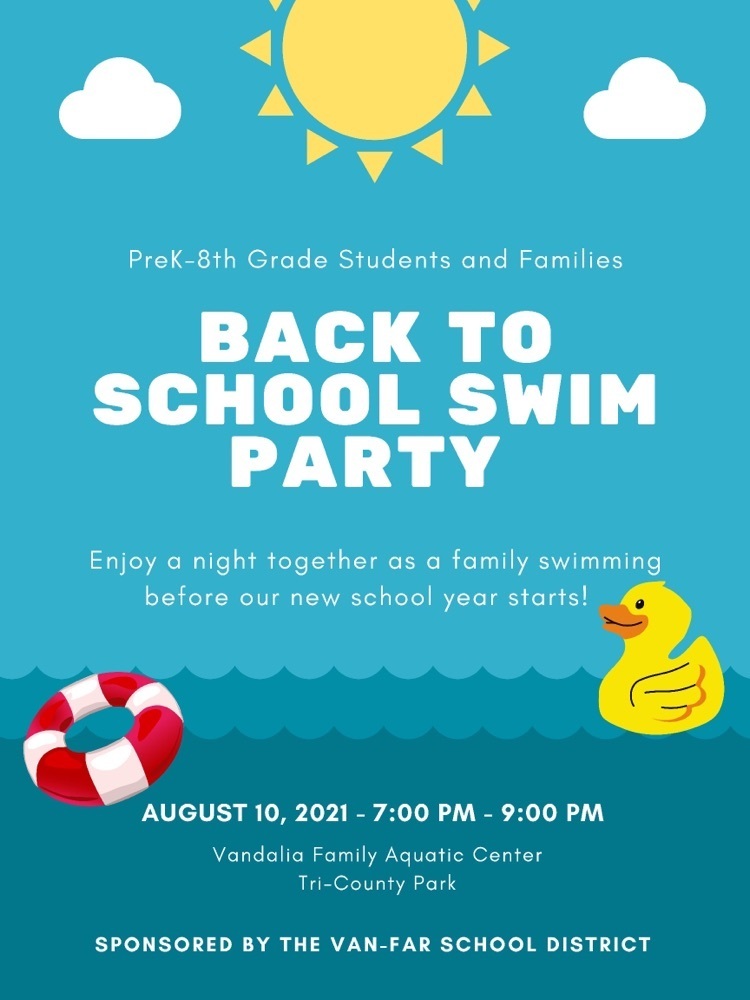 Annual Back to School Drive - August 14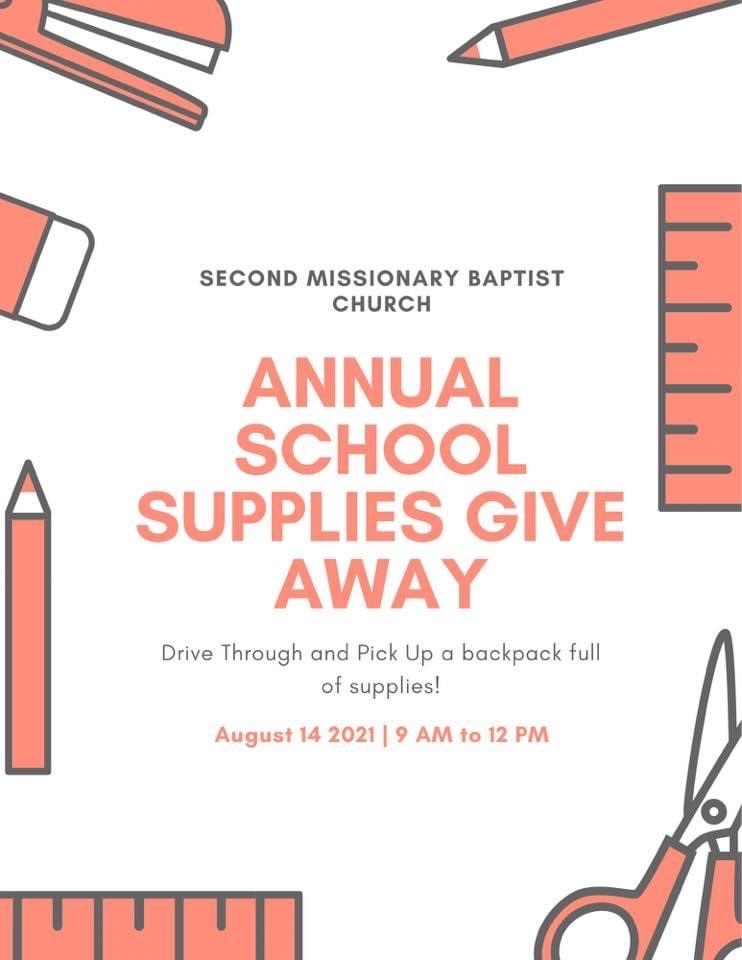 Please read the public notice regarding the school breakfast and lunch program for the 2021-2022 school year. Two main points from the notice are: *The district is offering all students 18 and under free breakfast and lunch under the COVID-19 Child Nutrition Nationwide Waiver through the Seamless Summer program. *Families are still encouraged to fill out the free and reduced meal application. The applications help maintain meal count requirements, are reported to DESE for funding eligibility, and establishes eligibility for other program benefits. Free and reduced meal applications are a available at the elementary and high school offices. For more information and details, read the notice in is entirety.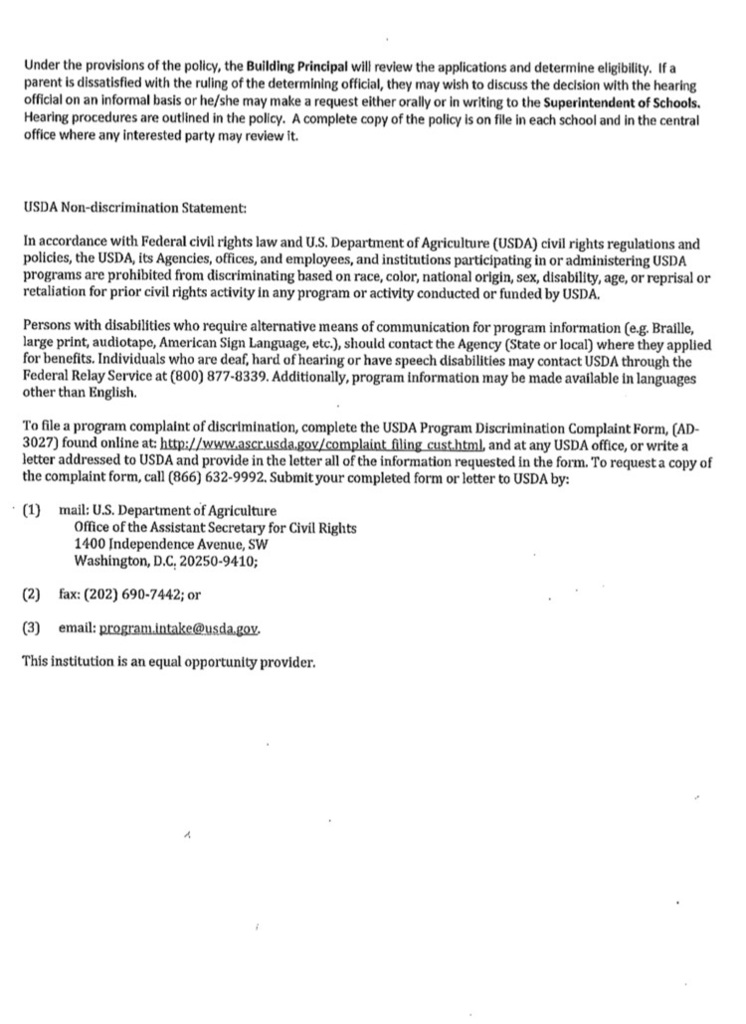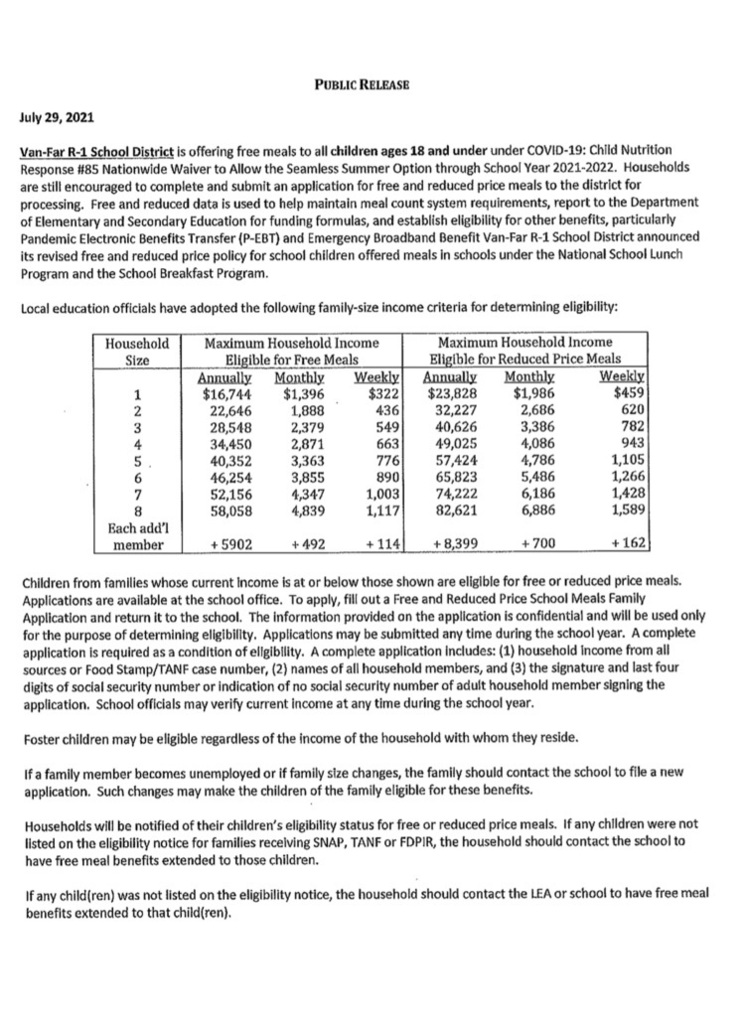 Back to School Event at the Mexico United Methodist Church on August 7. See flyer for more details. Parents and children must be present to receive supplies.

2021-2022 Registration Information Returning Students - A link will be emailed to parents the week of August 10.