Bus 1 will run about 25 minutes late today on the afternoon route. Please call the office if you need to change your child to a pick up. Sorry for the inconvenience!

The HS Softball game tonight at Clopton is postponed.

This week students will be creating masterpieces for our Original Works fundraiser! Look for their work and order forms coming soon!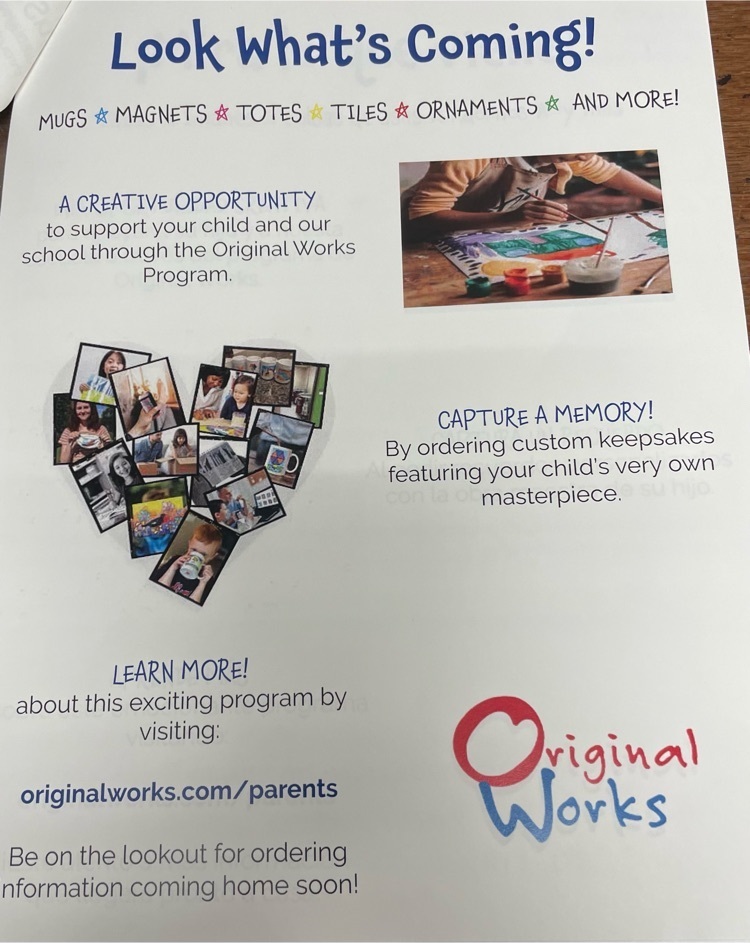 PAT Group Connection - Fire Safety

Reminder that this Friday night's football game (Oct 8th) is being played at Camdenton High School against Uniontown at 7:00 p.m. This is the week we had to reschedule due to the loss of Clopton/Elsberry. Let's go Indians!

The HS Softball game tonight against Wright City is going to be moved to Wright City with a 6:00 p.m. start due to our fields still being too wet to play.

We are going to have to reschedule tonight's softball game against Marion due to the field conditions being unplayable. We will let you know if we find a new date and time. Have a great night!

October is Disability Awareness Month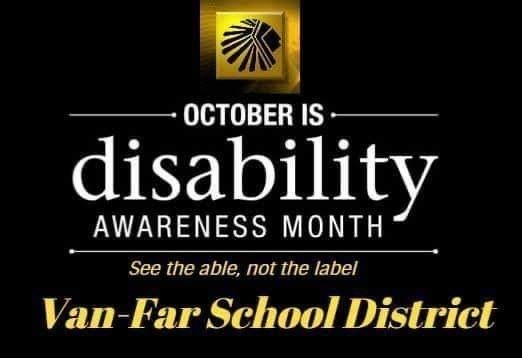 We will be recognizing our Senior members of Football, Band, Cheer, Trap, and Cross Country tomorrow prior to the football game. We ask that our senior athletes and parents are lined up at the East gate of the field by 6:25 p.m. We will begin introductions at 6:35 p.m. Congratulations to our seniors and their parents!

There are several upcoming programs at the YMCA for kids in the community. See the flyers for more details about cost, registration, and starting dates. Also, plan on stopping by the YMCA on Halloween. There are some fun activities planned. #YMCA #community #habit7 #sharpenthesaw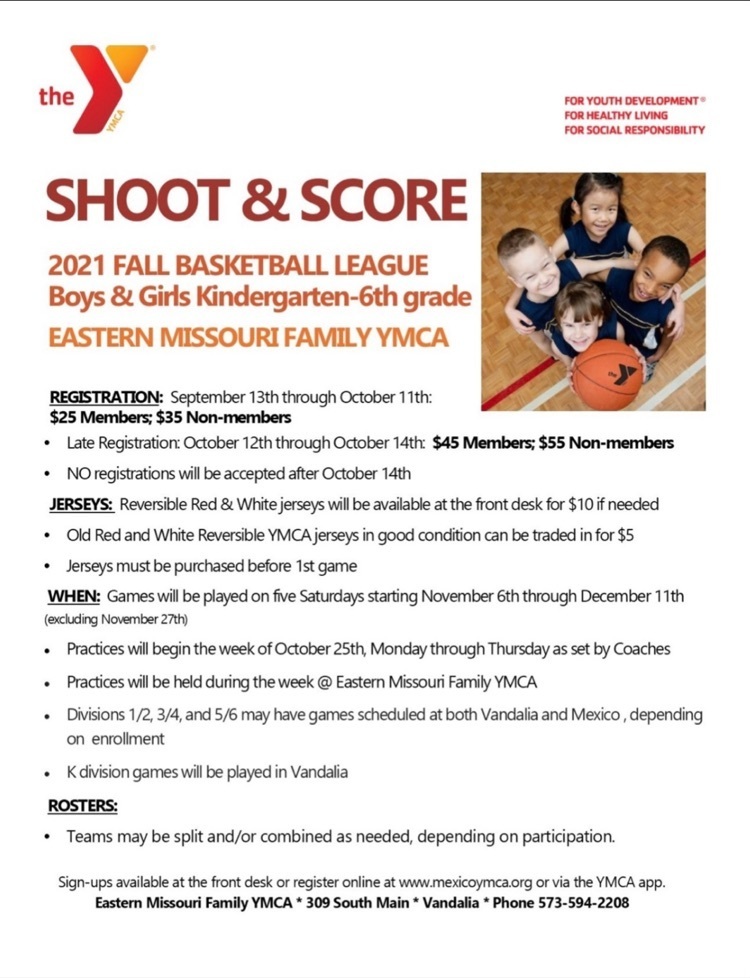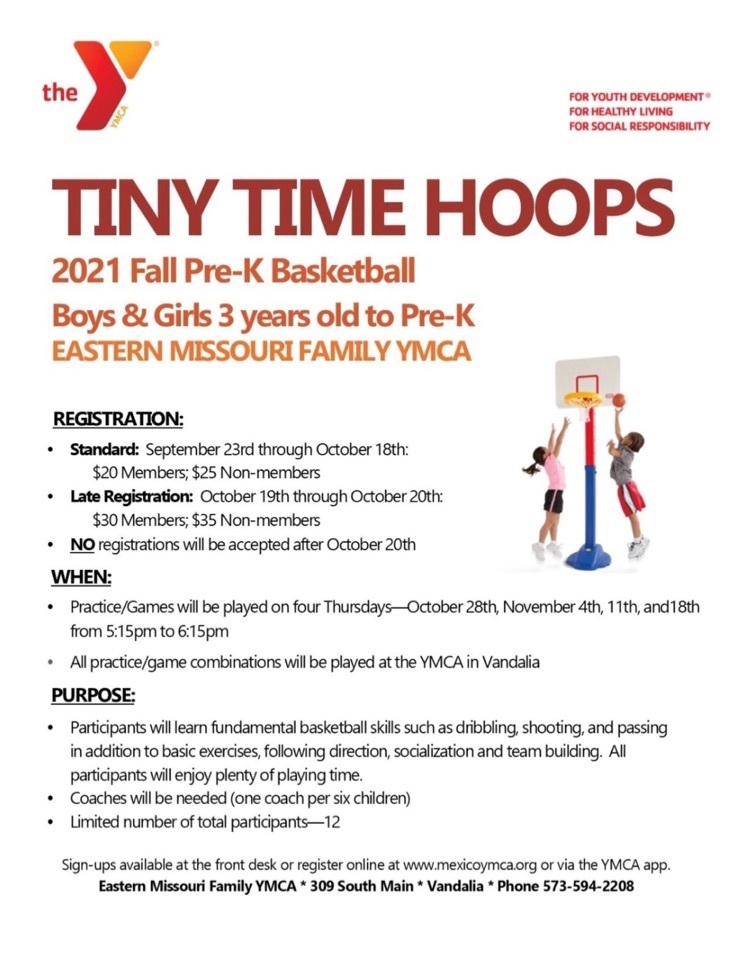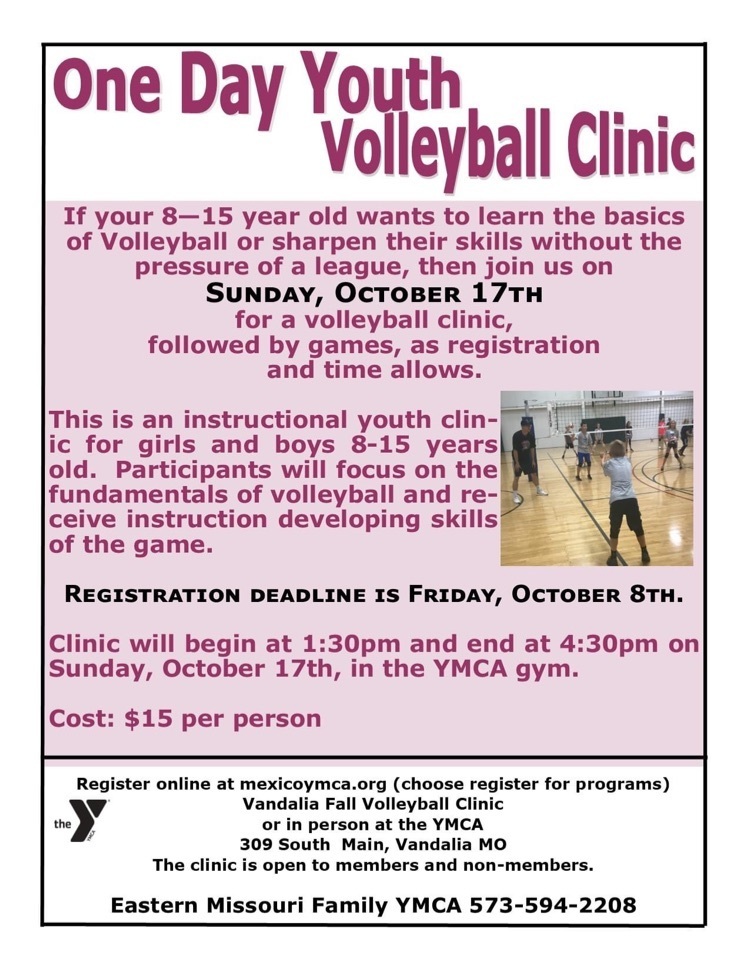 Thank you Audrain County Area Public School Retirees for awarding $100 to Ms. Quick, first year teacher at Van-Far Elementary. Pictured are Ms. Alicyn Quick and Mrs. Teresa Wenzel, Vice-President of the organization.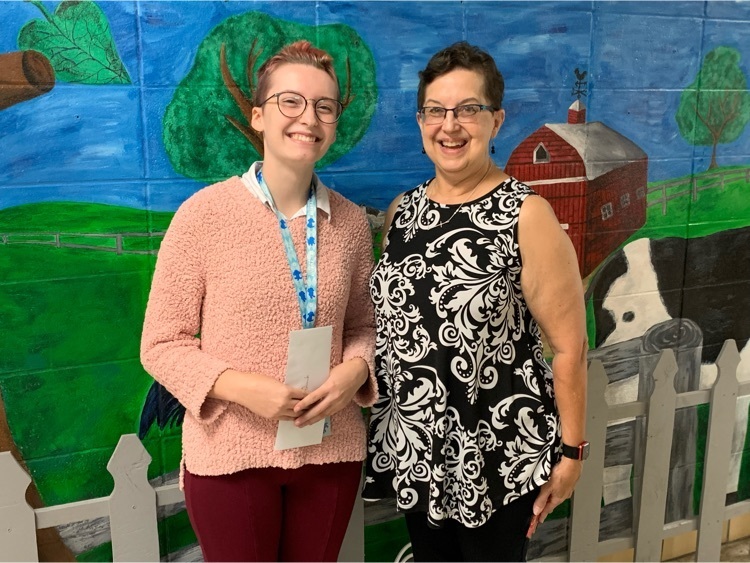 Juniors and Seniors- Don't forget to sign up to help at the Project Prom Pancake Breakfast. Set up is Friday, October 1st starting at 7:00 p.m., or you could work 1st shift on Saturday from 5:30-8:00 a.m. or 2nd shift, 8:00-10:30 a.m. Sign up is outside the HS Office.

On October 5, at 6:00 p.m., we will hold our annual meeting to inform the public of the McKinney-Vento Act for homeless students. We have several organizations that will sharing about programs and resources available in Audrain County.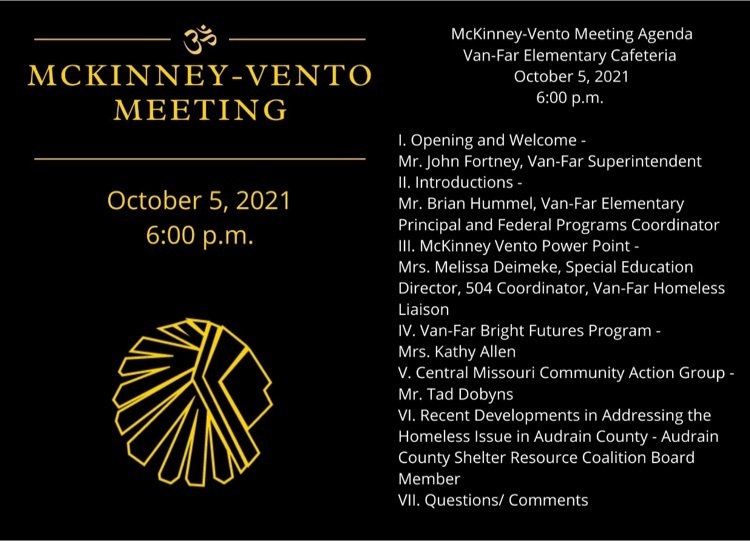 Reminder that there is a Senior Informational Meeting tonight at 6:00 p.m. in the HS Cafeteria.

The Scholastic Book Fair starts this Thursday. Stop by and pick up some great books!

Thank you Vandalia United Methodist Church for the donation of school supplies! We appreciate your support!

The HS Softball game tonight at Bowling Green is being pushed back to a 6:00 p.m. start.

Reminder this Friday: Kick-Off to a fantastic school year! Anyone between the ages of 0 and 5 years old are welcome to come to our group connection. Bring your siblings if you want! We hope to see you! #vanfarelementary #parentsasteachers #groupconnection #learningthroughplay

We will have a senior night informational meeting September 29th at 6:00 p.m. in the HS Cafeteria. We hope to see you there!

Josten's will be on campus tomorrow, Wednesday, September 22nd, from 3:00 p.m. to 6:00 p.m. to take orders from the sophomores for class rings, and seniors for graduation items.