Homecoming t-shirts are on sale today thru Friday, Sept 10. Cost is $10. See Ms Dunn or Mr Rost to order. We will be wearing Homecoming t-shirts on Friday, Sept 17 to kickoff Homecoming week! Here is the shirt design and shirt color.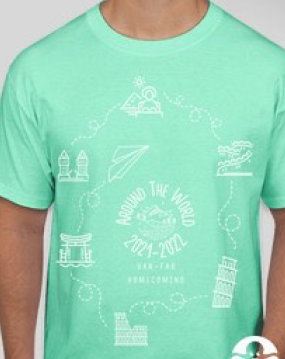 This Friday night (9/10 @ 7pm) the football game vs Mark Twain will be dedicated to the memory of Tom Culwell. Tom was a pillar of our community. He was always there to lend a helping hand anyway he could, whether it was getting fields ready for softball games or helping run our chain gang on Friday nights. We ask that everyone wear GREEN Friday and come out and support the Culwell family and the Van-Far Indians as we pay tribute to our dear friend Tom. Please spread the word.
Van-Far Alumni and Friends will be holding their annual banquet on October 9 at 6:00 pm. The guest speaker will be Dr. Lynette Heim Bikos, a graduate of 1984. Louis Clark, a graduate of 1995 will provide entertainment. A meal will be served, cost is $15 per person. Reservations are required by September 30. The Alumni has provided scholarships to 79 graduates in the amount of $86,200.00 in the past eleven years. If you have any questions please see Brian Hummel or Carol Schambach.
Varsity Softball will have practice today, from 4 -6 pm.
Josten's will be here next Wednesday, September 15th to meet with sophomores and seniors from 3:10-3:40. We will do Seniors in the large lab, and Sophomores in the cafeteria.
Congratulations to this year's FBLA officers: President - Tia Gaston, Co-VP - Emma Dowling and Cameron Jones, Secretary - Breanna Carman, Treasurer - Kiera Hayden. FBLA dues are set at $15. Dues can be brought to Mrs. McCurdy. Any student grades 9-12 is invited to join. If you have any questions about what FBLA is or what activities we have planned for this year, see one of the officers.
The Senior Class met Friday and voted that dues for the year be $20. Please have dues in on/by December 1. Mrs. McCurdy has a secure box to drop these off at your convenience, (box located in her business room). These dues will cover senior t-shirt, senior trip, and cap/gown, along with Homecoming and Courtwarming decorations. We will have one fundraiser this year, Shakespeare's Pizza, which will begin October 1 and end October 15. It's going to be a great year!
The October ACT test will be given at Van-Far, Saturday October 23. The registration deadline is September 17.
This is your last week to buy Krispy Kreme doughnuts from StuCo. They are $10/dozen and will be here one week after I place the orders. Contact Mr. Rost or a StuCo member to purchase by the end of the school day this Friday, September 10.
StuCo members: doughnut orders and money are due to me this Friday, Sept 10 by the end of the school day. Continue selling.
FCA kick off get together Saturday, September 11th at Mrs Cross house at 6:00 p.m. We will be grilling hotdogs, playing nine square, and tossing corn bags. Come for food, fun, fellowship, and faith. Hope to see you there.
There will be FCCLA meetings Thursday after school, you only need to attend one, for anyone interested in joining or finding out more information. FCCLA is open to grades 7-12. We will be setting a regular meeting time and discussing plans for the year. If you are interested and cannot attend, please see Ms. Flint.
FRESHMEN CLASS: Your class dues have been set at $20. Please make sure to give those dues to Mrs. Weiss, Ms. Fowler, Mr. Stein, or Mr. Foster by the beginning of October. Prices will jump by $5 or $10 at that time. If you are unable to pay that amount, please talk with one of your sponsors. We need this money to pay for our homecoming float building supplies, as well as contribute funds to graduation fees, prom, etc.
2021-2022 Yearbooks are now on sale! Get them now for the lowest price they will be offered for. The current price for a yearbook is $36. You can add personalization for $6.50 and receive 4 free icons. You can pick up an order form on the office ledge, access the form from the school webpage, or order online at jostensyearbooks.com. Seniors: There is a special bundle just for you check out the class of 2022 schoology group for more information! These prices are good through 9/24, after this date, the price of a yearbook will increase to $42 and personalization no longer includes free icons.
Attention: Anyone needing A+ hours, there will be 3 Little Indian Football games held on 9/11; 9/18 at home. See Mrs. Utterback if you would like to volunteer. .
MACC will be here 9/16 around 11 to collect dual credit payments.
This year's Homecoming theme is "Around the World". Dress-up days will run from Friday, September 17--Friday, September 24:
Friday 9/17 Wear your Homecoming T-Shirt
Tuesday 9/21 A Day at the Beach--school-appropriate beachwear (shirts and cover-ups).
Wednesday 9/22 South of the Border
Thursday 9/23 Dress like a tourist
Friday 9/24 Class colors
EAP Teacher: Winders
Lunch Today: BBQ Rib on bun; Bacon cheeseburger; Peanut butter and jelly sandwich; Cobb salad; Noodle station; served with fresh garden salad, fresh fruit, chilled fruit
Opaa to go: Cheesy Chicken Caesar sandwich; Southwest chicken avocado wrap; Thai chili noodle salad; served with chilled fruit.
Thursday, September 9
CANCELLED -- V/JV Softball at home against Louisiana at 5:00 pm. Gate Duty: D Allen
Friday, September 10
V Football at home against Mark Twain at 7:00 pm. Gate Duty: Udelhoven/Hopke & Jennings/J McCurdy
Saturday, September 11
JH Softball away at Silex tournament at 3:00 pm. Bus leaves at TBA.
Monday, September 13
Teacher Professional Development.
JH Softball at home against Silex at 5:00 pm. Gate Duty: Jensen
JV Football at home against Mark Twain at 6:00 pm. Gate Duty: Seymour/A Rost
Tuesday, September 14
JH Softball away at Mark Twain at 5:00 pm. Bus leaves at 3:20.
CANCELLED -- V/JV Softball at home against Elsberry at 5:00 pm. Gate Duty: Waddell
JH Football away at Wright City at 6:00 pm. Bus leaves at 3:15.
Wednesday, September 15
FFA Meeting at TBA.